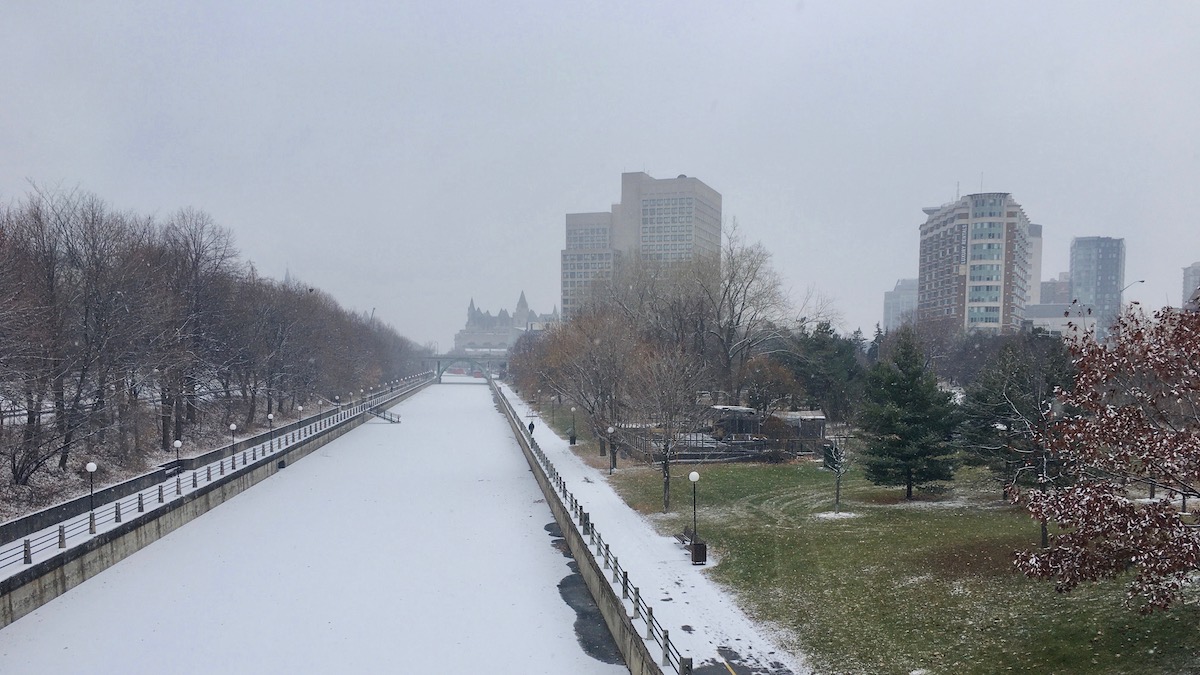 Environmentalists are urging the City of Ottawa to inject green values into its revamped Official Plan, which will frame the city's expansion and development over the next 25 years.
Some citizens are concerned about how the municipal government intends to address climate change and incorporate environmentally sustainable policies and strategies into the city's blueprint for growth, which will be drafted over the next year or so.
Paul Johanis, chair of the Greenspace Alliance — a local non-profit environmental organization — says that the Official Plan must hold the City of Ottawa accountable about climate change.  
"This has to be really proven by the city — that they are serious about climate change by making big changes in the Official Plan to respond to the climate emergency," said Johanis.
There are five major themes proposed within the Official Plan. One, resiliency, is expected to guide how the city will respond to climate change.
According to the city's most recent update on the drafting of the Official Plan, the resiliency chapter will focus on "embedding public health, environmental, climate and energy resiliency into … planning policies." 
Shyanne Matone, a youth climate ambassador with Ecology Ottawa, said that while there is progress being made on the issue, Ottawa needs to do more. 
"Certain things we are definitely making important moves on — such as the electric bus pilot program that the city is putting money towards — but in other ways, not so much," said Matone. "Our main goal is to ensure that the city doesn't pursue urban expansion. 
"All of our growth over the next 25 years should come from intensification, making communities more compact, more walkable, using public transit and bike lanes so that people have access to what they need without needing to own a vehicle." 
For Matone, urban sprawl is a major concern facing Ottawa communities. 
"We've been discussing the issue of urban expansion that may play a role in the new Official Plan and what implications this will have for climate change in the city," she said.
City councillors passed a motion earlier this year declaring Ottawa to be in a climate emergency. Certain policy shifts are being taken as a result.
Capital Coun. Shawn Menard, vice chair of the environmental committee, said Ottawa must now take definitive action and reflect that determination in the Official Plan and across all city departments.  
"We have been headed in the wrong direction for quite some time," said Menard. "Things are just starting to shift now. The climate emergency is a big part of that, but there is more to be done."
He added: "It's about embedding these decisions across every aspect of our organizations."
According to Menard, the main focus of population and development expansion in the Official Plan should be in the downtown core to maximize the use of mass transit while preserving rural and suburban green space and minimizing CO2 emissions from driving cars in and out of the central urban area.
"It's imperative when we house people, we're housing them closer to the core so they have opportunities to have live-work-play communities," added Menard.
A range of transportation improvements will be key to enhancing sustainability, Menard said. He said pushing people towards walking, biking and using buses and the LRT rather than fuel-burning vehicles is an important part of reducing carbon emissions in Ottawa.
Menard said the city must also place a priority on reviewing building codes and encouraging energy-efficient construction.
"We really need to move to reduce our emissions through changes to our buildings, making the buildings more efficient," said Menard.
In addressing general concerns about urban expansion, Menard stated: "We're not going to stop eople coming to the city — that's only going to increase. But it's the choices we make when they do come here."
Johanis said the city's choices around the Official Plan must demonstrate a sense of urgency about mitigating climate impacts.
"The official plan covers the next 25 years," he said. "These are the 25 years we must come up with effective climate action."
Johanis added: "What we need right now is for this voice to be carried forward so that it gets to the ears of the councillors and politicians who will be considering these matters."
City Council will make a number of key decisions in the coming weeks that will shape the Official Plan, which is scheduled for completion in early 2021.
---
More Stories