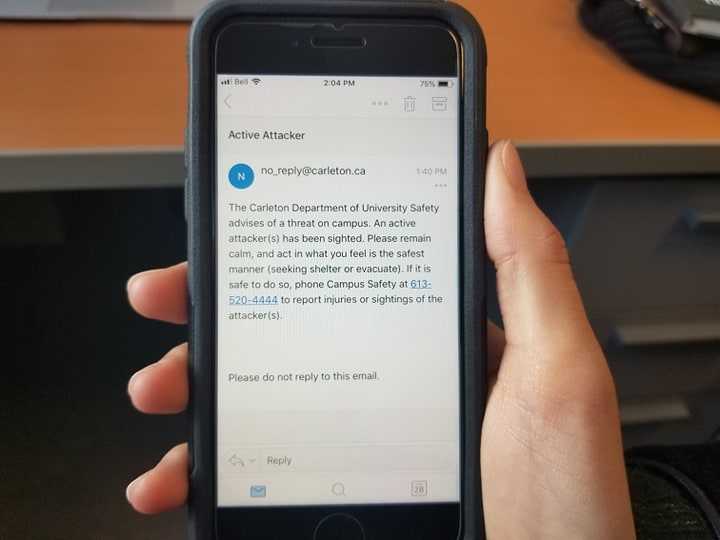 Carleton University students and staff continued to receive alerts overnight about "active attacker(s)" on campus – nearly 13 hours after the university apologized for alarming recipients with the accidental emergency alert Monday afternoon.
A late text notification of the false alarm received on Tuesday at 2:52 a.m. by some students reads:
"Carleton Safety advises of an active attacker(s) on campus. Please remain calm; take safe action (shelter or evacuate)."
Carleton University Security Services confirmed again early Tuesday there is no emergency.
At 1:40 p.m. Monday afternoon, Carleton University communications sent out the original urgent alert to advise of a "threat on campus."
"An active attacker(s) has been sighted. Please remain calm, and act in what you feel is the safest manner (seeking shelter or evacuate)," the university erroneously advised in an email.
Some classrooms went on lockdown, while others evacuated amid the confusion.
In one of many follow-up emails administered to correct the error, the university indicated the mistake occurred when the message was sent instead of saved while emergency templates were being updated.
"The university profusely apologies for the error and the resulting upset that was caused. We can reassure you that everything is safe and under control."
The university's first retraction went out at 1:57 p.m.
In an email, Carleton University warned students and staff may receive notifications hours after the false alarm issued Monday afternoon.
Monday's false alarm comes on the heels of a real emergency on campus over the weekend. It happened about 42 hours after employees and pupils received urgent notifications warning employees and pupils about a two-alarm blaze at Steacie Building.
"Officers are responding to a hazard," read the emergency text message from the university advising about the fire inside the chemistry building.
Ottawa firefighting crews quelled the blaze before undergoing decontamination protocols late Saturday night. No one was hurt.
Carleton University is not under any immediate risk or threat as of early Tuesday morning, according to campus security.
"Carleton students or employees who are having difficulties or are in need of assistance are strongly encouraged to reach out to the appropriate service, their professor or supervisor or residence life manager," the university wrote in an email.
Counselling support is available to students and staff by phone or in person.
Related articles
Students who require support can visit Health and Counselling Services at CTTC Building, Suite 2600 or call (613) 520-6674 to schedule appointments. The university encourages Carleton employees to access the after-hours Employee Assistance Program by calling 1 (800) 668-9920 or (613) 725-5676 during regular business hours.
---
More Stories