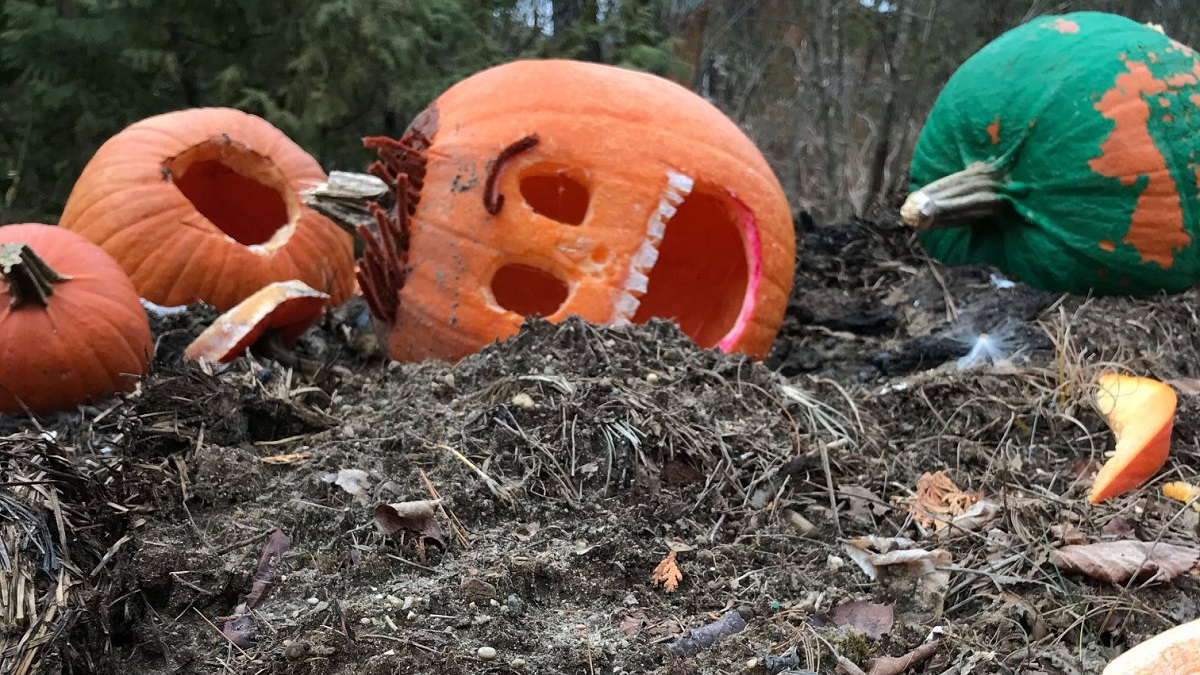 In Britain, more than half of the 24 million pumpkins purchased for carving this Halloween will be thrown away, according to a recent survey by Hubbub. Similar rates of jettisoned jack-o'-lanterns can be expected across North America after next week's spooky Oct. 31 ritual, even with the clampdown on trick-or-treating in COVID-19 hotspots such as Ottawa.
Oct. 19-25 happened to be waste reduction week in Canada. And with the week coming so close to Halloween, organizations such as Thunder Bay, Ont.-based environmental advocacy group EcoSuperior have been calling for action to reduce a type of discarded material that many individuals don't think twice about: holiday organic waste.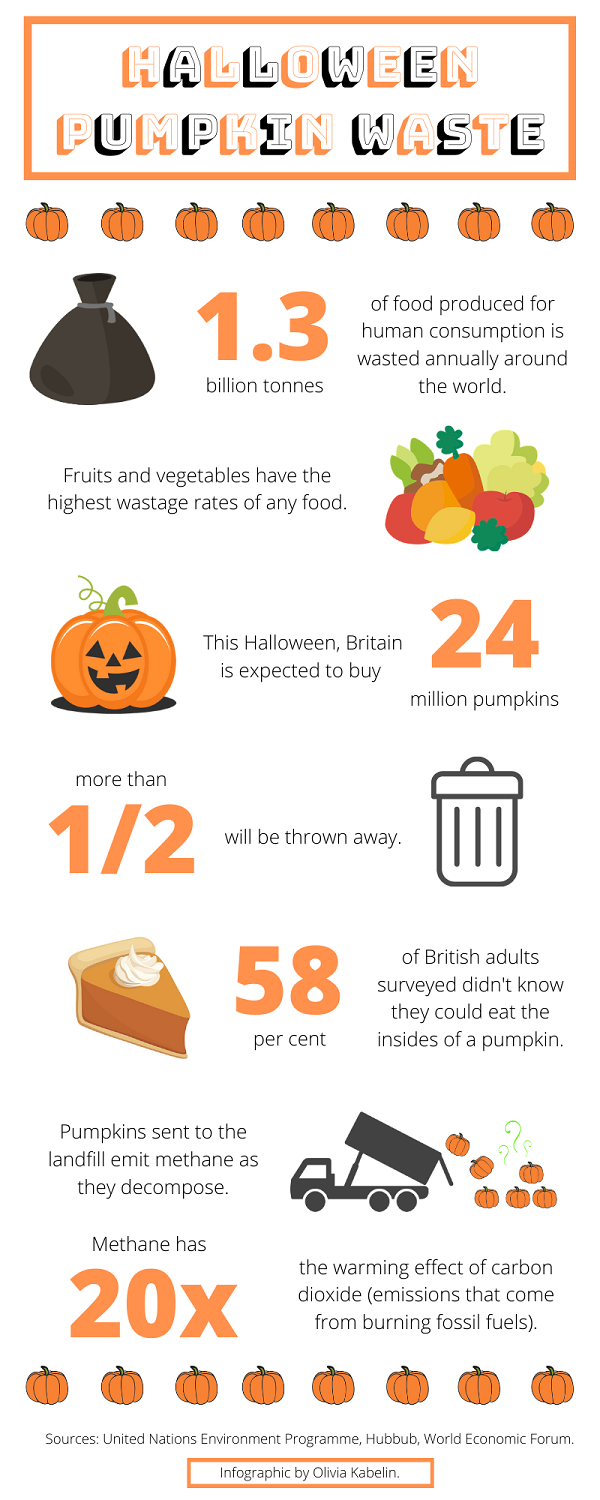 "It's a massive amount of material at one time of year — Halloween (pumpkins)," said Melissa Davidson, program co-ordinator at EcoSuperior. "But it's completely compostable if it's put in the proper place, rather than filling up the landfill."
EcoSuperior has hosted an annual Great Pumpkin Compost Collection since 1995. Since the event began, nearly 400 tonnes of pumpkins have been diverted from the city's landfill, according to Davidson.
"The landfill up here, in Thunder Bay, is relatively full. It doesn't have that many years of life left," she said. "Everything that we can divert from going into that landfill is going to help extend (its lifespan)."
However, pumpkins sent to the landfill don't only take up much-needed space, they also speed up the process of global warming.
When any organic waste decomposes in municipal solid waste landfills, it produces methane, a harmful greenhouse gas that plays a major part in climate change, producing more than 25 times the warming effect of the same amount of carbon dioxide emissions, according to the federal government.
In 2005, emissions from Canadian landfills accounted for 22 per cent of the national methane emissions. Between 1990 and 2005, methane emissions from landfills increased by 24 per cent, according to Global Methane Initiative.
Composting eliminates the production of methane as the organic matter breaks down, according to the Western Australia's agriculture and food department.
"(Decomposed pumpkins) are such a valuable source of nutrients for our soil and it just goes to waste in the landfill and adds to our accumulation of waste," said Tori Miller, founder of Zero Waste Renfrew, a community-based organization west of Ottawa that aims to reduce residents' waste.
In 2018, Miller launched a pumpkin, cornstalk and straw pickup program to tackle the issue of organic waste she observed in her town every Halloween. But instead of adding the collection to the municipal composting facility, Miller started a community garden in her backyard.
"I want people to be responsible about what happens to our purchase and reframe our thinking to, 'This is a pumpkin that we can bring new life to by putting it into our garden,'" said Miller.
While this year's harvest didn't produce much from the community garden, Miller hopes to donate next year's bounty to the Renfrew Food Bank.
"We've received really positive feedback from the community," said Miller.
"People were so happy that they could take control of their waste while helping to contribute to something positive."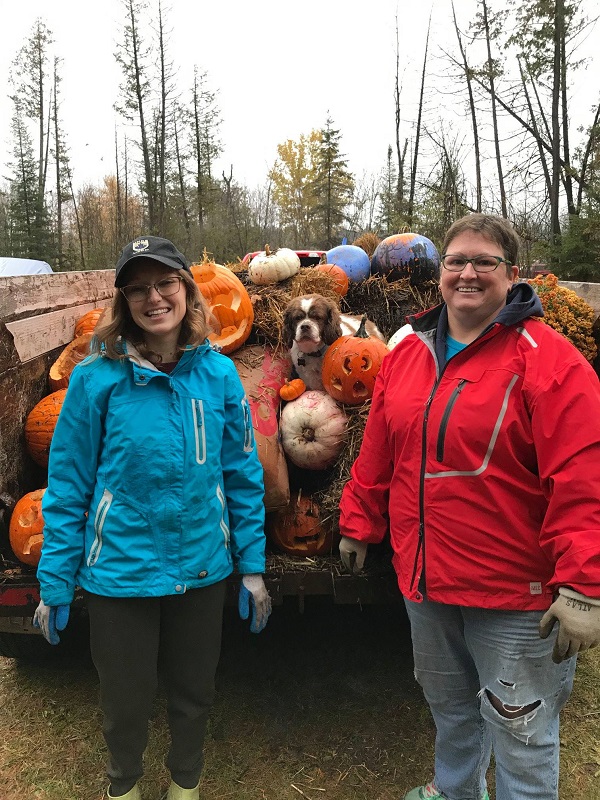 The Ottawa South Eco-Action Network has advocated a less conventional approach in enabling Ottawa residents to control the fate of their Halloween organic waste – Pumpkins for Pigs.
OSEAN member Marianne Ariganello recalls seeing individuals donate their old jack-o'-lanterns to animal rescues, but couldn't help wondering whether the car emissions from driving the pumpkins to a sanctuary made the trip worth it.
"We thought we could make a bigger impact than just individual people doing that," said Ariganello.
After reaching out to local farms with pigs, the Pumpkins for Pigs pilot project launched last Halloween.
"Pumpkins are a very nutritious food source and it's a great additive to (pigs') diet. It can also be used as a toy for them to roll around and it provides stimulation," she said.
"Being able to use these pumpkins means (farmers) don't have to grow or buy as much extra food for their animals."
Last year, despite launching only six days before Halloween, the campaign collected more than 50 pumpkins, according to Ariganello. This year, with seven pickup locations and two drop-off trailers in Wellington, she hopes OSEAN will secure more than 100 pumpkins for pigs at local farms.
While the environmental impact of organic waste isn't most people's main concern during Halloween, Ariganello says this holiday is the perfect opportunity to bring the issue to the top of peoples' minds and to enable individuals to take positive action to reduce their waste.
"People like to know that there's a solution to the problems and this gives them the ability to do something immediate to help solve them," said Ariganello.
---
More Stories