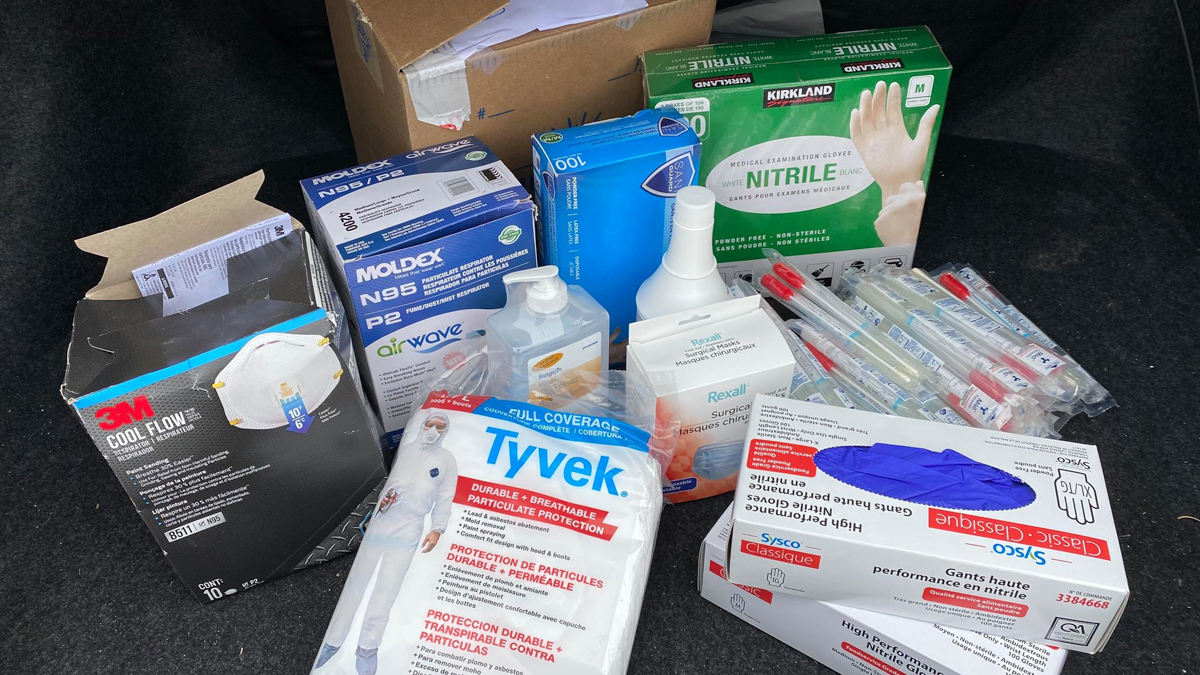 A group of medical students at the University of Ottawa are trying to source personal protective equipment to help local doctors fight the COVID-19 pandemic.
The four medical students have co-founded uOttawa COVID Sourcing, a volunteer-driven initiative that seeks unused personal protective equipment, or PPE, from local businesses.
Jonathan Whelan, a third-year student and co-founder, says the group is asking dental and veterinary clinics, nail salons, construction companies and tattoo parlors and other businesses with stocks of PPE to donate their unused and sterilized supplies. With many of these businesses deemed non-essential in the face of a pandemic, medical students are taking advantage of readily available PPE while new supplies are being created.
The group is collecting donations including surgical masks, N95 respirator masks, gloves, gowns, hand sanitizer, face shields, goggles, head and feet coverings and disinfectant wipes. To ensure appropriate social distancing protocol, a team of drivers makes the rounds throughout Ottawa while callers organize sanitized pickups of PPE packages from local businesses.
This group of students is far from alone in their search for PPE. Whelan says medical students in Kingston, London and Toronto are also canvassing local businesses to see what life saving materials can be donated. In the meantime, the federal government is working hard in the background to pump out more supplies to frontline workers. On Tuesday morning the prime minister announced $2 billion will be used to purchase and support the making of PPEs
The National Research Council of Canada unveiled its COVID-19 Challenge Program on March 20 in an effort to address the needs of Health Canada and the Public Health Agency of Canada. This program organizes teams of government, academic and private sector workers to focus their collective energy on manufacturing protective equipment and sanitization products — among other tasks.
"I have heard from many companies that are already feeling the impacts of this pandemic. Our government is acting quickly to ensure that we are using every possible tool in our toolbox to fight for the health and economic well-being of Canadians and their companies," said Navdeep Bains, Minister of Innovation, Science and Industry, in a news conference. Public Services and Procurement Minister Anita Anand says the Canadian government has also purchased an array of equipment, including 11.3 million N95 masks which are critical pieces of equipment for doctors treating COVID-19 patients.
Until these critical protective supplies reach the frontlines of Canadian healthcare workers, it will be initiatives like Whelan's which help provide defense.
While first and second-year students at the University of Ottawa have made the transition to online learning, third year medical students haven't received much academic direction since their clinical duties were cancelled, says Whelan. Medical students at the university want to help out and are screening patients in the hospital, offering free daycare services and even house-sitting for physicians working on the frontlines. Whelan says, "we're all a little bit lost about how we could be helping, and this is a great way to help frontline healthcare professionals."
If you have personal protective equipment in your home or businesses and can make a donation, email covidsourcingottawa@gmail.com or visit uOttawa COVID Sourcing to organize a pick up.
---
More Stories