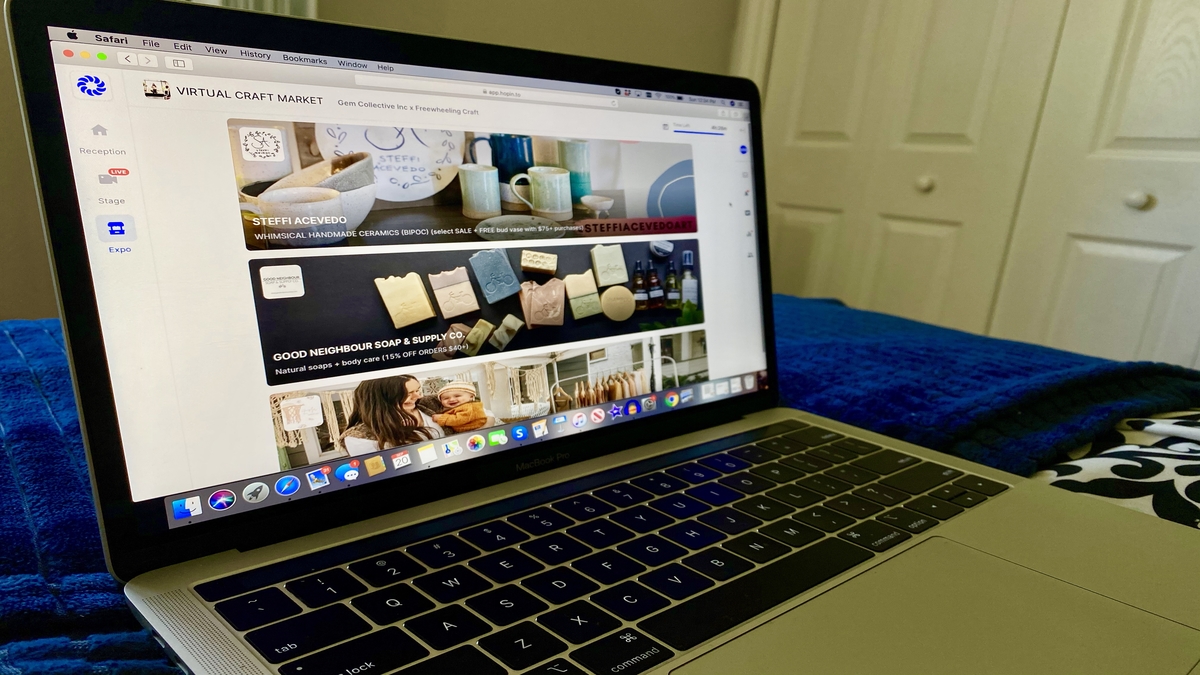 Much of daily life in Ottawa has adapted to be socially distanced or virtual because of the COVID-19 pandemic — so it makes sense that local artisans and craft markets would follow suit. 
Ottawa-area artisan businesses recently "gathered" from the comfort of their own homes for Gem Collective Inc. and Freewheeling Craft's Virtual Craft Marketplace from Sept. 17 to 20.
Freewheeling Craft and Gem Collective's Amanda Cockburn put together the event through the website Hopin. It showcased 55 local artisans and makers, along with seven different workshops and musical acts.
Cockburn has been a leading figure in the local artisan community through her dedication to organizing craft markets and promoting local artisans through her blog Freewheeling Craft. Before the move online, her in-person markets have previously been held at different places such as the National Arts Centre and Makerspace North.
Gem Collective, another of her projects, began in April 2020 as a way to bring together businesswomen in an online platform leading up to a virtual Gem Conference (Sept. 30 to Oct. 1), which highlights female-run businesses.
Shoppers at the Virtual Craft Marketplace were able to scroll through online platforms and buy everything from clothes and jewelry to soap, visual art and more, while enjoying live DJs and musicians. Or they could check in on a cocktail workshop by Taste & Tipple and a bath bomb-making tutorial with Zoe's Corner. The products were all available for online purchase with special deals, including certain stores offering free shipping to celebrate the weekend.
Meredith Newberry of Good Neighbour Soap & Supply Co. participated in Freewheeling Craft's in-person markets before the pandemic hit and took part in the virtual one.
Cockburn "has this talent of creating community. … She just has this way of creating collections and creating a show that's unique, different and always fresh," said Newberry. "I participated in this one because I knew she could create something really special." 
While an in-person craft show may offer a more tangible sense of community for artisans and visitors, online shopping has become the new norm during the pandemic.
According to Statistics Canada, May 2020 saw a 110.8 per cent year over year increase in online shopping across Canada compared to May 2019. Most of that shopping was for non-essential items.
The beginning of the pandemic was no bed of roses for small businesses. However, the increase in online shopping paired with a "Buy Local" campaign encouraged by the City of Ottawa made the COVID-19 period busy for local artisans.
"Ottawa's small and locally owned businesses are woven into the fabric of our city," stated the City of Ottawa's appeal to local consumers.
Move Over Martha, a mother-daughter-best friend team with a home decor-based shop, is one business that saw an increase in sales after capitalizing their online Etsy shop, a digital sales platform for primarily handmade products. The trio sells unique plant pots, seasonal decorations and popular COVID-19 cancellation wedding mugs with that feature the cancelled date and the new wedding date.
"Once we are allowed to be in-person, I think there are still going to be virtual markets," said Caitlin Kemmett of Move Over Martha. "It's a great way to get your event past your local community to a broader audience."
Dawn Evans, one of the co-founders of Eleven Love, said her business saw a similar trend when the pandemic began. Eleven Love is a team of moms who sell candles, greeting cards and jewelry, including their 11:11 "make a wish" bracelets.
"We've actually had an increase in our e-commerce through our website and our platform through Etsy," said Evans. "I think (our products) really resonated with people when it was first crazy lockdown, because we were able to send gifts for other people to their friends and family and write personal notes and cards."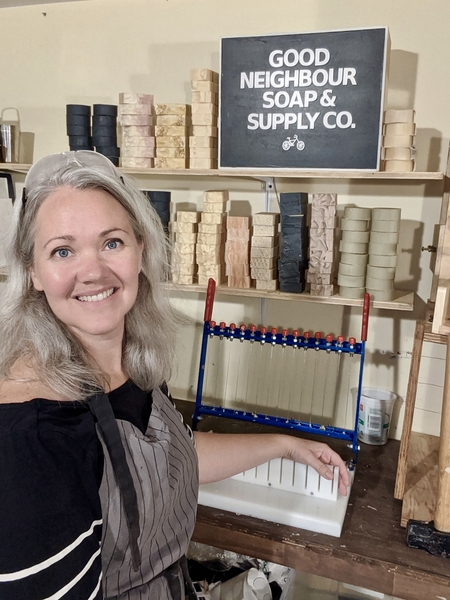 With Christmas around the corner, craft markets normally can be found all over the city. This holiday season, virtual marketplaces may be the best way to reach buyers — particularly as a COVID-19 second wave forces re-tightened restrictions on community events.
"Probably the majority of the maker community makes a huge chunk of their yearly revenue during the fall and holiday markets, so I'm hoping that (online markets) can help to replace the in-person revenue," said Evans.
However, when the lockdown began, many physical spaces where artists worked were no longer accessible. Steffi Acevedo of Steffi Acevedo Ceramics was unable to finish any of her pottery until last month.
"It definitely set me back. The community was wonderful in the sense that people knew my work and were willing to buy my pieces even though they weren't finished yet, because they knew what the end product was going to be," said Acevedo.
Newberry also had to leave her regular workshop and convert her basement into a workspace to keep making one of the hottest commodities for COVID-19 shoppers.
"People need soap. We need something to do to be clean, to wash our hands. So at least by making soap I can be doing something positive to help stop the spread," said Newberry.
While many craft-makers are finding an alternative through online shopping and virtual spaces, the loss of in-person craft markets will still be felt, they say.
"Nobody really knows how long this is going to last, so it's nice that we've adapted and found a way to still be able to do this," said Acevedo. "But I think everyone's kind of hoping that it's more of a temporary thing than a forever thing."  
---
More Stories