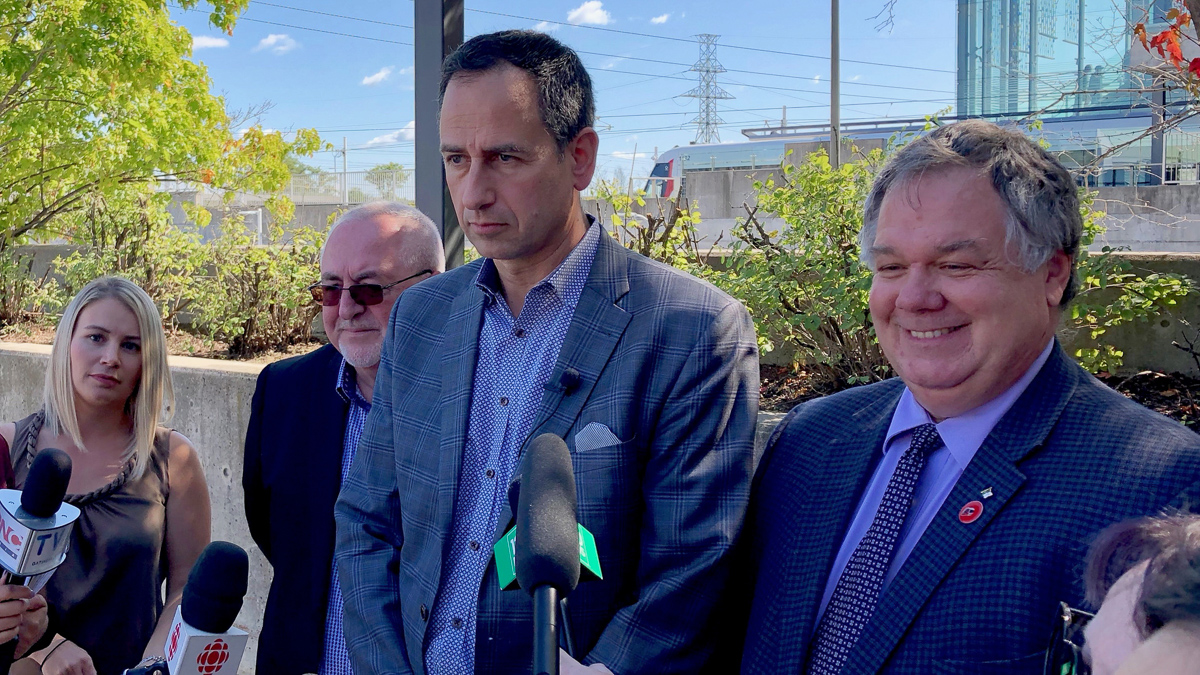 The first-ever Monday morning run for the city's new LRT was "very good on all fronts," said the City of Ottawa's general manager of transportation services.
John Manconi talked to the media on Monday after the first ever morning rush hour had concluded. He was joined by Transportation Committee Chair Allan Hubley and Vice-Chair Jean Cloutier.
The Confederation Line is the first phase of Ottawa's LRT plan. The launch came after lengthy construction delays sidelined its launch by more than a year, costing the city more than $34 million in extra wages for extended bus hours.
Manconi said the only issues on Monday morning were minor technical problems with escalators at Rideau Station and a trespasser at the Tunney's Pasture station.
"Someone scaled into the station," he said. "She entered into some parts of the station that she should not have been in."
He said that every station is monitored 24/7 and they have the incident recorded.
Service on Ottawa's new light rail transit system was briefly delayed during Monday's commute home.
Transit commission chair Allan Hubley told CTV News there was an eight minute delay on the Confederation Line in the late afternoon due to a default code that needed to be reset. The minor delay did cause some bus backlogs at stations like Tunney's Pasture.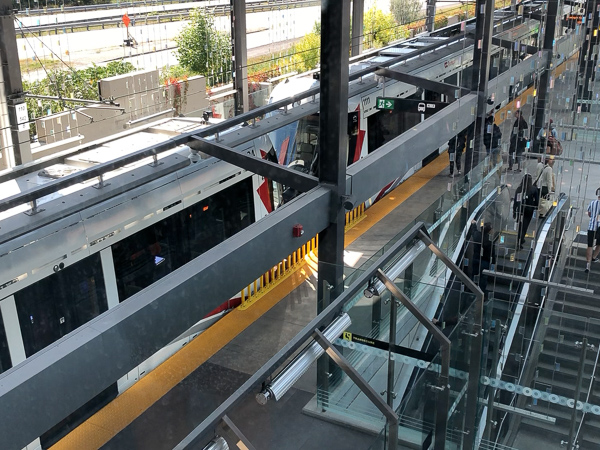 "We do not have to lay off as many people as originally thought."
Manconi says around 180 busses will be taken off the road sometime after Oct. 6, when bus service is scheduled to be reconfigured to complement the train service.
"We're down to under 200 layoffs," he said, crediting help from unions to minimize layoffs, originally expected to be around 600.
He said he has worked with Amalgamated Transit Union Local 279 to ensure job losses are minimized by instead asking those who are eligible to retire. Union comment was not immediately available.
Student commute logjams
The first phase of Ottawa's LRT opened on Saturday with an official ceremony, musical performances at many stops and a speech from Mayor Jim Watson.
Monday was the new line's first commuter test, however, and the LRT created unexpected delays in other parts of Ottawa's transit network.
For example, Carleton University students on the way to class Monday morning faced delays because of an increase in volume of passengers going north on the Trillium Line O-Train to catch the new LRT.
The Trillium Line runs north-south and connects with the LRT at its Bayview station.
Coun. Jean Cloutier, the vice-chair of the city's Transportation Committee, said the city is monitoring the city's transit network for any issues. He said the city is open to considering an increase in the volume of Trillium Line trains if necessary.
"I'm sure they are seeing those loads on the Trillium line, and will adjust as much as possible," he said. The Trillium Line will be upgraded as part of Stage 2 of the City's LRT plan, which will include increased train frequency. Work on the $4.66 billion Stage 2 of light rail is underway.
---
More Stories