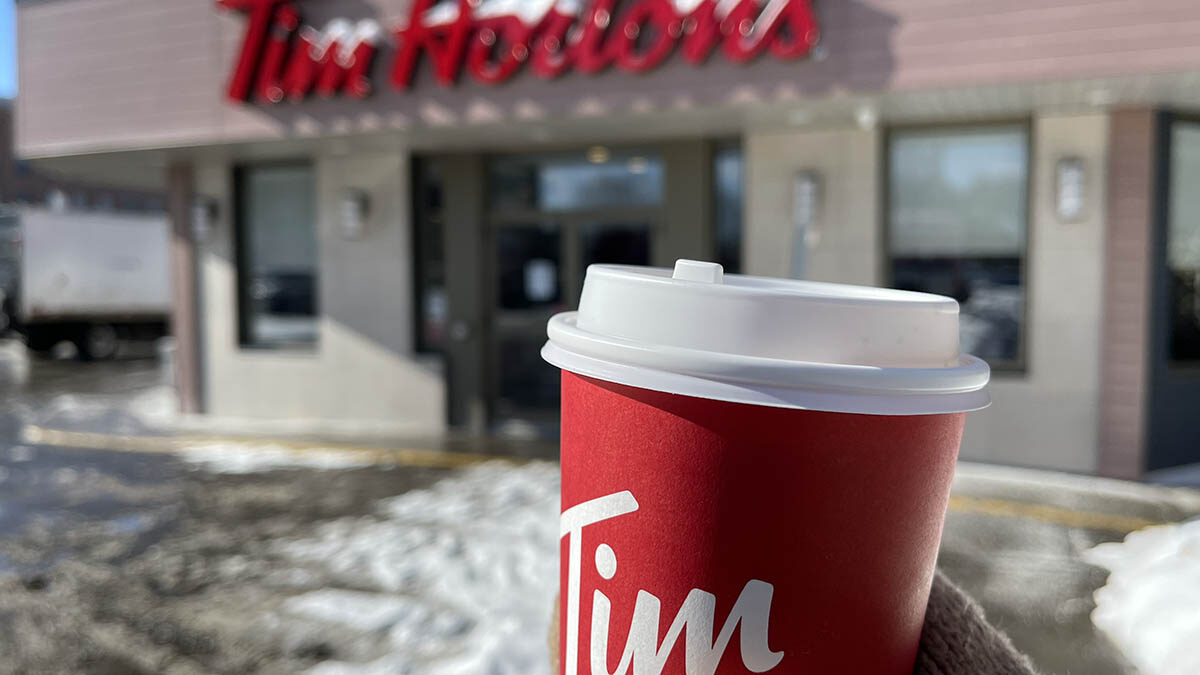 Tim Hortons fans will likely have noticed the lids on the iconic takeout coffee cup turned white recently, a move the coffee and donut giant says is part of its "Tim's For Good" sustainability platform. But while the colour might make the lids more easily recyclable, environmentalists say the move is too little, too late.
The rollout of new lids is part of a plan to make Tim Hortons more sustainable, said Paul Yang, the company's director of innovation and sustainability in Canada.
"We're working towards making all of our packaging reusable, recyclable and compostable," said Yang.
Generally speaking, the colour of a plastic helps determine how recyclable it is. Recyclers prefer clear plastic, because it can be repurposed into any product. Coloured plastics are more complicated to sort and recycle, though white is preferable to darker colours. According to Yang, the shift from brown lids helps the process for recycling.
But many environmentalists say it's time to focus on phasing out single-use plastic altogether, since much of it ends up in landfill.
"What we've seen is that the bulk of coffee cups and lids end up in landfills, and very few of them are actually recycled," said Sarah King, head of Greenpeace Canada's Ocean and Plastics campaign.
Tim Hortons was named one of Canada's worst plastic polluters in 2018 and 2019 by Greenpeace.
King said she would rather see Tim Hortons focus on scaling up reusable offerings, rather than focus on recycling.
The role of colour in recycling
Canada recycles just nine per cent of its plastics each year, with the rest dumped in landfills and incinerators or tossed into the environment as litter, according to a 2019 study commissioned by Environment and Climate Change Canada.
King explained that while the colour switch could increase the likelihood of a lid being recycled, it's still much more likely that a lid will end up in a landfill.
Cost plays a critical role in recycling plastics. The cost of making new plastic is lower than collecting and recycling it, according to an Environmental Defence.
Guidelines of what can be recycled differ between cities and are not widely communicated, making recycling confusing and inconsistent across Canada.
---
---
Filled almost to capacity
In Ontario, existing landfills are expected to hit capacity by 2032, according to the 2021 report by the Ontario Waste Management Association.
Canadians produce about 3.3 million tonnes of plastic waste per year. About 2.8 million tonnes end up in Canadian landfills each year; an amount equal to the weight of 24 CN Towers.
In most major Canadian cities, coffee cup lids are tossed in the garbage. In Ottawa, coffee cup lids are non-recyclable.
Gabriella Carrier, the sustainability manager for Carleton University's Dining Services, said that many lids are polystyrene, which can't be recycled in Ottawa. Tim Hortons uses lids made of polypropylene, but because so many coffee cup lids are made of a non-recyclable plastic, the City of Ottawa advises that coffee cup lids go in the landfill to reduce contamination, said Carrier.
King said the differing regulations in jurisdictions creates a big challenge. Despite a coffee cup lid being deemed as recyclable in one city, they may not have the ability to properly sort it in a recycling facility, where it gets produced into something else.
For example, said King, Vancouver has a single-use item reduction strategy and certain single-use plastics have been banned. Cities can put different bylaws in place, but "it falls down to the province to organize the recycling and waste management sector," King pointed out.
"Often when we're talking about recyclability, it's actually more in theory, because in the real world, it's just not happening," she added.
The lids are another single-use alternative
Yang said the new lids are just "one step" in a journey. "I wouldn't consider this a silver bullet. That probably doesn't exist in the sustainability world," said Yang.
Carrier says restaurants too need to shift to reusable items instead of relying on recycling.
"Creating a culture of circularity is key to true sustainable packaging," said Carrier.
Tim Hortons says it is preparing to begin another reusable and returnable packaging trial in Vancouver this year.
King said if Tim Hortons is going to focus on anything, that should be not producing more single-use alternatives, even if they deem it more recyclable.
"It's disappointing to see the recycling narrative creep back into their approach when you know there is some progress being made on actual zero-waste solutions," said King.
The federal government has proposed a ban on single-use plastics. The comment period ended March 5.
The 2021 framework identified "foodservice ware made from or containing problematic plastics" as warranted for the ban in Canada.
However, it did not specifically identify "coffee cup lids," so it is unclear whether the single-use lids would be prohibited under the proposed ban, if it comes into force.
---
More Stories