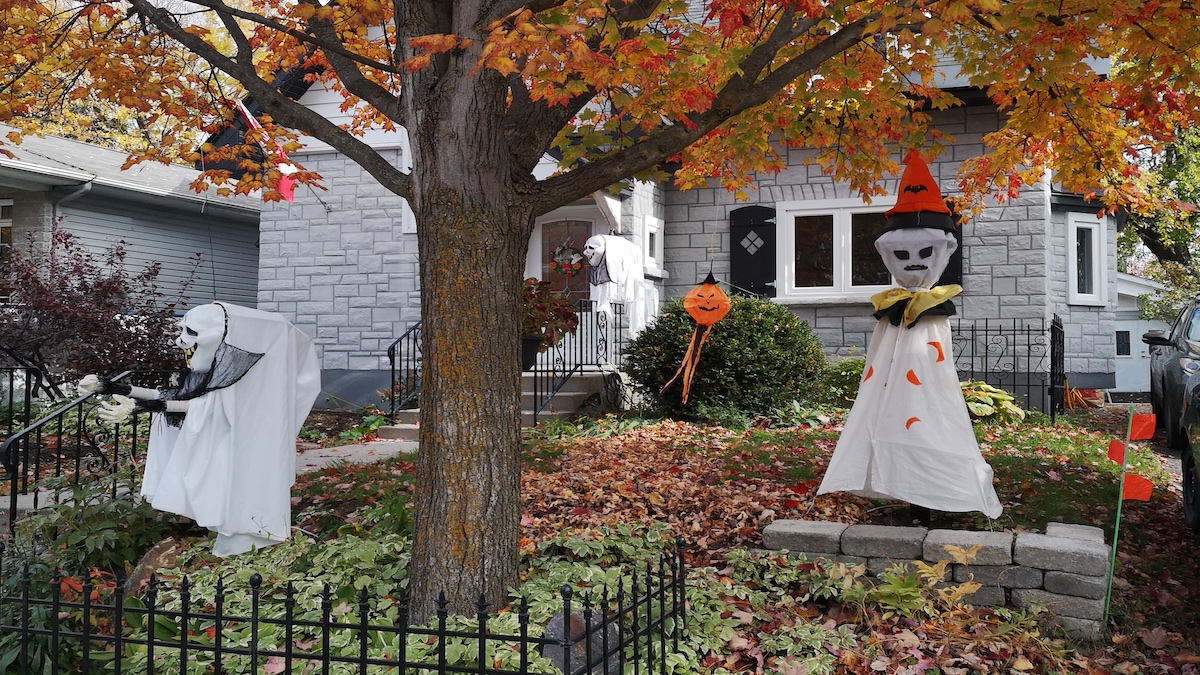 Canada's top doctor, Dr. Theresa Tam, said earlier this week that Halloween — including neighbourhood trick-or-treating — can go ahead this year provided families adhere to public health guidelines.
But Ottawa's chief medical officer of health, Dr. Vera Etches, said Wednesday that the capital is too much of a COVID-19 hotspot to embrace door-to-door candy gathering this Oct. 31, and that city residents must pursue other "creative" ways to celebrate the spooky autumn ritual.
"We are recommending that people stick to their households. That's the common message we need people to pick up and carry out," Etches said during an Oct. 14 Ottawa Council meeting. "So it doesn't seem consistent to say then people should be moving around their neighbourhoods in groups."
Instead, advised Etches, "it means we want to be creative. We want to dress up. We want to share pictures. We want to have hunts for candy within our house or outdoors within the properties where people live. It really is probably more of like an Easter egg hunt concept that would be recommended at this time."
The head of the Ottawa Public Health agency emphasized that "Ottawa has the highest rate of COVID in Ontario. We have to do things differently here. So it does mean celebrating in new ways."
On Tuesday, Tam — Canada's chief public health officer — had given a general green light to permit trick-or-treating across the country, but only while observing certain pandemic precautions. She also said Canadians should defer to the directions of local health authorities since rates of COVID-19 infections vary from province to province and city to city.
The general safety guidelines issued by Tam included remaining outdoors, using prepackaged candies to avoid rummaging around in bowls, sanitizing hands regularly and wearing a mask.
With Halloween just a few weeks away, many families were wondering what their Oct. 31 would look like this year.
Etches said in a press conference on Sept. 11 that the city would shape its guidelines around provincial recommendations.
Despite the directions from the federal government and Ottawa Public Health, Ontario has yet to give any provincial recommendations.
 "Engaging in Halloween activities safely is something the government and public health (officials are) currently looking at," said a spokesperson for the provincial health ministry earlier this week.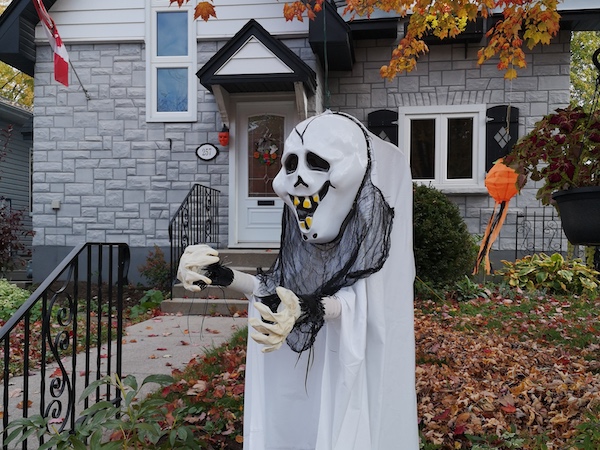 The situation has led to some confusion for families as they weigh the risk and reward of taking their children door to door.
Heather Gravel, a mother of two in the Niagara region, said that her family is doing their best to monitor the situation in their area, keeping an eye on case numbers and any local clusters she notices.
"I don't think trick or treating is that unsafe as far as the pandemic," Gravel said. "As long as kids aren't sticking their hands in bowls or going out in big groups, it's easy to sanitize and stay distanced. I'd like to see it go ahead if possible."
Etches told CTV News in August that she felt Halloween would not go forward as usual, and Premier Doug Ford said on Sept. 10 that "it makes me nervous, kids going door to door; I'd prefer (they) not to."
However, both of these comments were made before Ontario began reporting its highest numbers of new COVID-19 cases since the spring, and before the Oct. 9 rollback of re-openings in provincial hotspots Ottawa, Toronto and Peel Region.
Gravel said she recognizes that things can change quickly in a pandemic, and has a plan in place should trick-or-treating feel too unsafe come Oct. 31.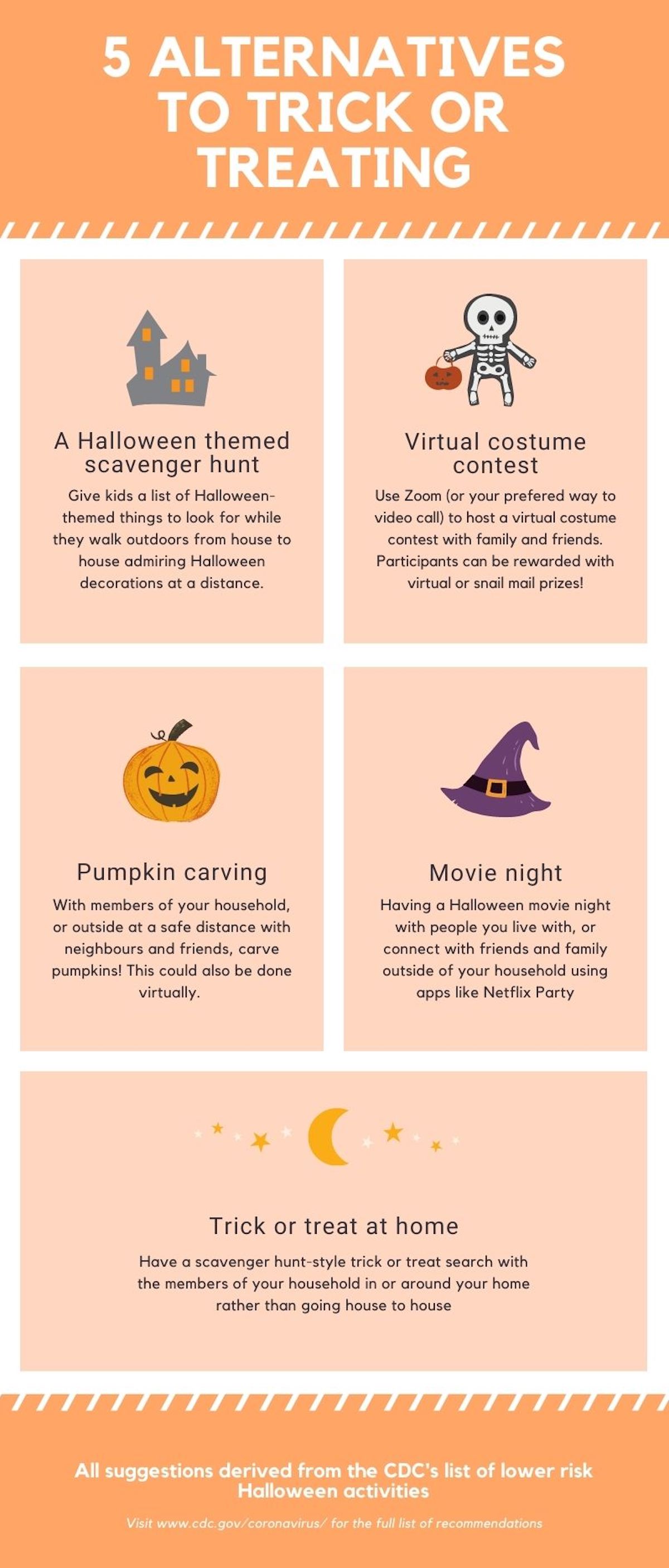 "We are making ghosts to hang around trees in our yard to do what we're calling a ghost hunt. We'll hide some favourite treats around the yard, like an Easter egg hunt, but with Halloween candy," said Gravel.
Stacey Matchem, who also has two kids in the Niagara region, said at the moment they're planning to trick or treat, but to stick to homes nearby.
"We'll probably just walk around our complex," said Matchem.
Ottawa's annual "trick-or-treat with the mayor" event, scheduled for Oct. 24, was cancelled at the start of the month because of "the evolving situation of the COVID-19 pandemic."
Across the province, the messaging from regions and municipalities is mixed as many jurisdictions wait for word from the Ontario Ministry of Health and Long-Term Care given Ontario's rising cases.
The Region of Waterloo has said that Halloween "can't happen," but the neighbouring city of Guelph advised that trick or treating might be OK with certain precautions, CBC News reported.
The Niagara region has said it is deferring to the province on the matter, while Toronto Mayor John Tory told CP24 that he "won't hesitate" to call for the cancellation of trick-or-treating if public health officials feel it is too risky.