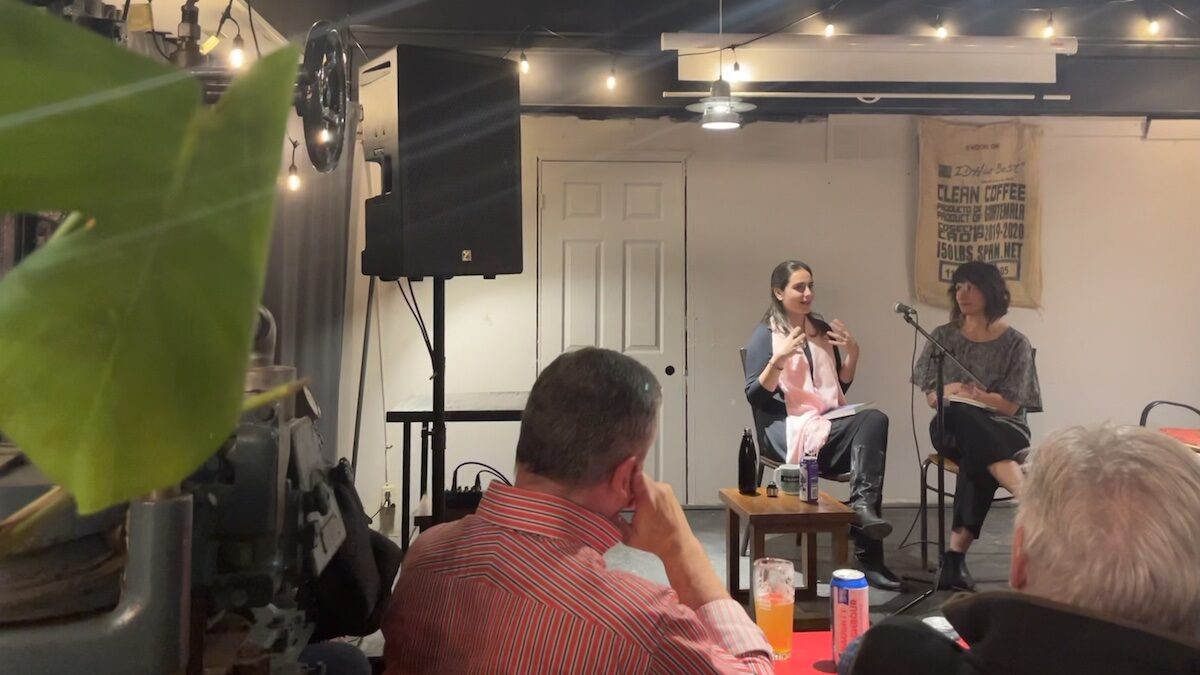 At a coffee shop in Berlin, colourful book spines line the walls. They rest on tall, oak bookshelves, and are interrupted only by a countertop filled with pastries and a panel of windows. They surround customers sitting at tables, sipping lattes.
To journalist and author Menaka Raman-Wilms, the store, Shakespeare and Sons, is more than just a coffee shop. It's where she began writing her debut novel, The Rooftop Garden.
Happy Goat Coffee Co. in Hintonburg was more than just a coffee shop this weekend, too.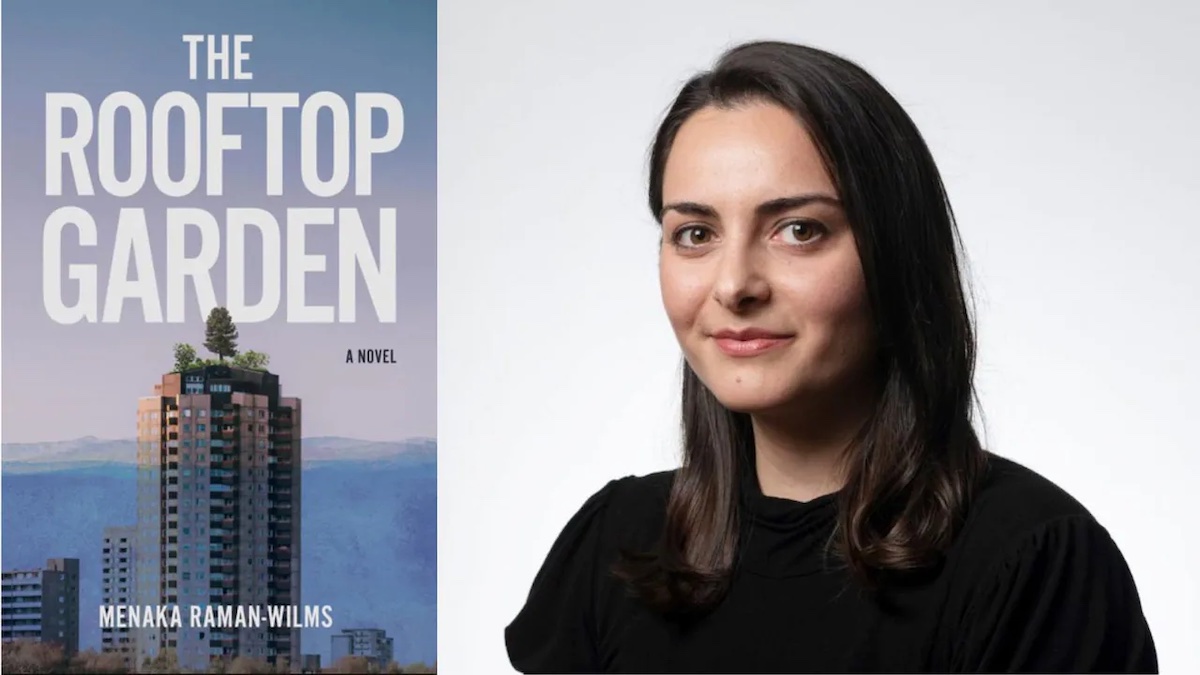 On Saturday night, book lovers gathered at the Laurel Street location near Little Italy to meet with and learn about the author behind the novel.
Raman-Wilms' The Rooftop Garden follows the lives of two childhood friends, Nabila and Matthew, in their 20s. Nabila is a scientist in Toronto, but when Matthew gets swept up in an alt-right group that leads him to Berlin, Nabila travels to find him. The novel highlights themes of friendship, loneliness, climate change and radicalization.
At the Nov. 26 book launch, Raman-Wilms read an excerpt from the characters' childhoods and discussed her novel in conversation with Carleton University journalism professor and fellow author Sarah Everts.
As a novelist and a journalist, Raman-Wilms highlighted the importance of "headspaces" when balancing her two writing styles. She sees creative and journalistic writing as "two different dialects of the same language" — dialects that require their own space and time.
"With journalism, it's very in the moment. You've got to think quickly; you've got to get stuff down fast," she said. "With creative writing, I find it always takes me a bit longer. I need a bit more space.
"I need to sit in a coffee shop or somewhere else where I can physically get out of the headspace of writing journalistically."
Raman-Wilms' attraction to coffee shops worked its way into The Rooftop Garden with the fictional Café Arboretum.
'With journalism, it's very in the moment. You've got to think quickly; you've got to get stuff down fast. With creative writing, I find it always takes me a bit longer. I need a bit more space.'

— Menaka Raman-Wilms, Globe and Mail journalist and author of The Rooftop Garden
The novel's café, she says, was loosely inspired by Shakespeare and Sons. For Café Arboretum, Raman-Wilms took the Berlin café's book-lined walls and injected plenty of greenery in her imagination, adding that she found beauty in "the integration of the literary and the horticultural worlds."
Raman-Wilms says she also drew inspiration from Berlin's integration of urban and natural spaces. After the Second World War, many of the city's destroyed buildings were never fully rebuilt, so the natural world "moved in and took over."
"That really triggered my imagination because we often pave over the natural world and make it into urban spaces. But this was the opposite of that.
"There were these previously urban spaces that were being reclaimed by trees or bushes," she said. "And I just thought that was so incredible."
After her time in Berlin, Raman-Wilms returned to Canada where she finished her novel. It was published by B.C.-based Nightwood Editions last month.
Nightwood publisher Emma Skagen said one of the most important themes of Raman-Wilms' novel lies in Nabila and Matthew's relationship. When Matthew gets caught up in extremist views, Nabila must empathize with Matthew before she can help him.
"Nabila is a scientist, and she thinks in facts. That causes an interesting tension because she wants to save him, but doesn't really understand how he got there in the first place," Skagen said.
She added that while it can be "hard to feel compassion" for people with views different from our own, it's crucial.
"If it were someone in your life and you wanted to help them see that they're getting involved in something that's wrong, in a way you have to just step back and be there for them," Skagen said.
Author and former family therapist Diana Stevan noted the importance of compassion in the novel, too. Her therapy background gives Stevan a nuanced persepctive on Nabila and Matthew's relationship.
"I'm very aware of the fact that we're vulnerable, depending on what's happening in our lives and the support we get," Stevan said.
A key part of understanding the characters as adults, she said, stems from their childhoods. Stevan describes Nabila's homelife as loving and nurturing while Matthew's was deprived and lonely.
"He doesn't want to do bad stuff. But you see him going through these motions. And he's caught," Stevan says.
"He didn't have the support to be able to sort out what he was doing. For that reason, I was intrigued by where the writer would take this story."
Stevan's full review of the novel is published in The Miramichi Reader.
The event at Happy Goat Coffee Co. was one of three book launches for the novel since The Rooftop Garden's release; the other two took place in Winnipeg and Toronto.
The Ottawa launch was a return to the city for Raman-Wilms, who studied journalism at Carleton University, graduating in 2020 with a Master's degree. During her time at Carleton, she was also a reporter with Capital Current.
When Raman-Wilms isn't writing fiction, she can be heard hosting the Globe and Mail's daily podcast, The Decibel.
---
More Stories