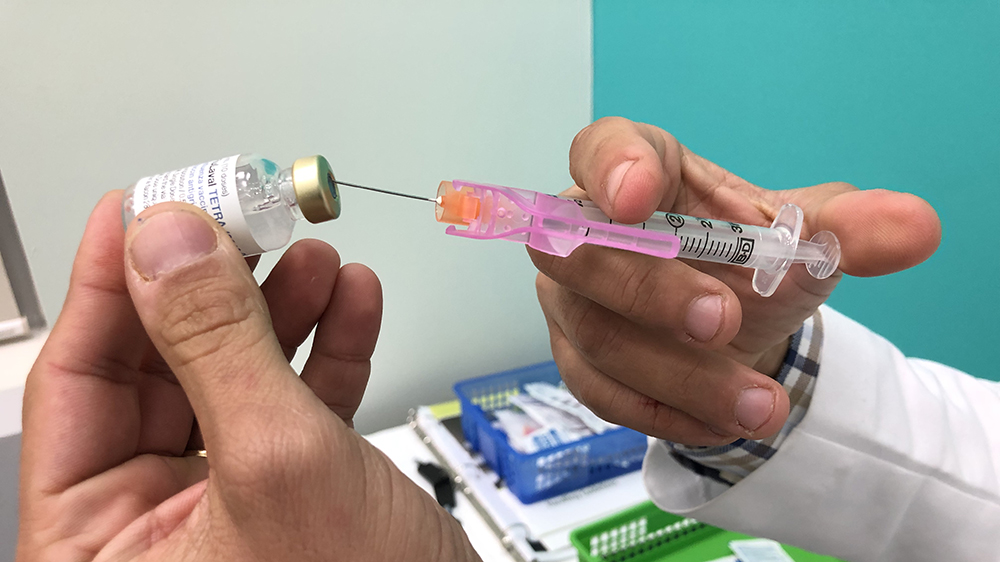 Ottawa Public Health is seeing an increase in the numbers of people coming in to its flu clinics this season even though there was a setback when September's tornadoes delayed vaccine delivery two weeks.

Public health officials in Ottawa expect a mild to moderate flu season this year and add that they believe this year's vaccine will be more effective than one administered last year.
Dr. Genevieve Cadieux, Ottawa Public Health's associate medical officer of health, said no one can be certain about the severity of the flu but officials look to the southern hemisphere to gauge what will happen here.
"If we look at the experience in Australia, they had a fairly mild season," said Cadieux. "What we do here is hope for the best and prepare for the worst."
While the predictions are hopeful, Cadieux said Ottawa Public Health has seen an increase in activity at its flu clinics this year.
Ottawa Public Health said it has given 5,400 flu shots as of Nov. 13, compared to a total of nearly 7,000 last flu season.
"We've seen a 30 per cent increase in uptake compared to last year," said Cadieux. That hasn't always been the case.
But, Cadieux said she can't be sure if more people are actually getting the flu shot this year because the numbers from doctors' offices and pharmacies are not yet available.
In Ottawa, more than 300 doctors and 200 pharmacies offer the flu shot. Pharmacists, however, cannot provide the vaccine to those under the age of 5.
Last year, Ottawa Public Health confirmed 1,187 influenza cases—nearly double the 600-case average of the previous five years.
"People may be more keen to get vaccinated this year knowing what happened last year," Cadieux said.
Last year's higher number of cases can also partly be attributed to a vaccine that wasn't the best match for the circulating strain.
"Last year we were expecting an H1N1 season, but we got an H2N3 season," said Dr. Jeff Kwong, a scientist with Public Health Ontario and family physician in Toronto, referring to two strains of the influenza A virus.
Kwong said, in general, the H1N1 portion of the flu shot is more effective than the H2N3 portion.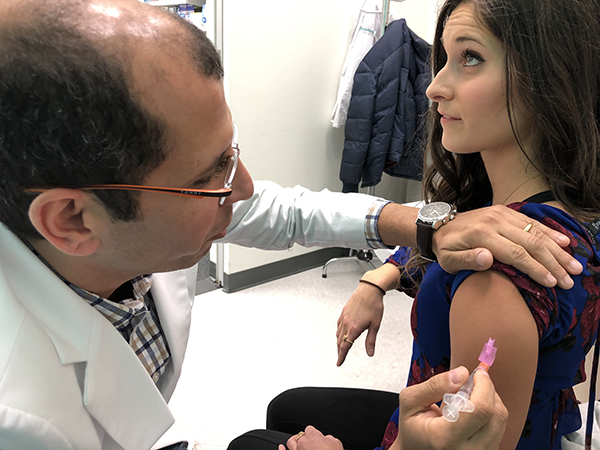 Stephanie Terrien, an Ottawa physiotherapist, started getting a flu shot annually about five years ago.
"I work with the public so I figured it's a good thing to get it done," Terrien said. "I'm going traveling for two months this year and that's another reason."
Terrien said last year she contacted the flu despite getting the shot.
"I was really run down so I think I was susceptible to it," said Terrien. "That was my first time getting the flu."
Kwong, said it is possible to contract influenza despite being vaccinated and part of the reason people avoid the getting the flu shot is because of the perception that it's not effective.
He said the shot is normally between 50 and 60 per cent effective, which is better than other medications.
"A lot of medications are only 25 to 35 per cent effective, but we take them without asking questions," said Kwong. "If I told you taking cholesterol medication is only going to reduce your chance of a heart attack by 25 per cent, no one wants to have a heart attack so they'll take the cholesterol medication."
New high dose shot
New this year in Ontario is a high dose flu shot for those 65 and over. It is only available at public health clinics and from family doctors.
Cadieux said the high dose vaccine has four times the virus proteins to stimulate immunity compared to the regular flu shot.
The high dose vaccine is a trivalent vaccine, meaning it protects against three types of flu while the regular vaccine protects against four types.
Cadieux said no one type of vaccine is preferred over the other but the high dose vaccine offers extra protection to those who are more susceptible to the harsher symptoms of influenza.
Tornadoes caused delays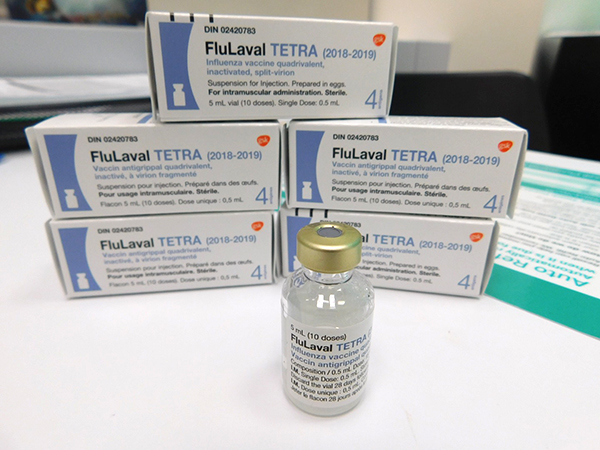 Ottawa Public Health's vaccine delivery was delayed this year when tornadoes struck the region killing power in neighbourhoods across the city.
Some vaccines were deemed spoiled when power outages shut down vaccine refrigerators at health care providers' offices and clinics.
Ottawa Public Health said 139 refrigerators stopped operating during the outages, representing more than a quarter of the vaccine refrigerators monitored by Ottawa Public Health.
Cadieux said Ottawa Public Health has distributed 150,000 doses of the flu vaccine to health care providers throughout the city, as of Nov. 8.
That number does not include vaccines at pharmacies that receive their doses of the vaccine directly from suppliers.
"The delivery was delayed a bit when we were trying to replace the wasted vaccine," said Cadieux. "Physicians got their shipment of vaccine somewhere between 10 days and two weeks late."
"By this point all physicians have got their first shipment and most have got their second shipment as well."
---
More Stories